Hapukalypse Now
From HtownWiki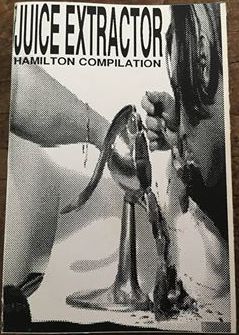 Hamilton "alternative" covers band with a near-residency at the Ward Lane Tavern in the early 1990s. The original line-up from late '91/early '92 was formed during the death-throes of Book of Martyrs and The Haunting; featuring Jonathan Armstrong of Book of Martyrs, Clambone and Watershed on vocals; Paul Oakley (also recently of Book of Martyrs, Clambone and Zangiacomo's Eastern Tour) on bass; along with The Haunting's Wheels and Paul Tregilgas on guitar and drums, respectively. There is said to have been an earlier singer prior to Armstrong.
Guitarist Wheels left for the UK in late 1992 and was replaced by Chris Paki (formerly of Jam Sandwich and Pregnant Hippies) on guitar. This line-up eventually started writing and recording original material, but disbanded before most of these songs saw the light of day. However, they had one track, Lust Cat, released on the 1992 compilation Juice Extractor.
There was an "Alter-Ego" to Hapukalypse Now; an alternate lineup known as Big Audio Laxative. B/A/L would play Hapuka's Ward Lane slot on Thursdays when one member (usually Paul T) was absent. The lineup as Big Audio Laxative was usually Armstrong (drums, vocals), Paki (guitar, vocals) and Oakley (bass).
Armstrong later joined Martin Phillipps and The Chills. Paul T and Paul Oakley have gone on to play in a number of bands together (including King Biscuit, Trucker, Johnny Fist and Disjecta Membra), and others individually. Chris Paki went on to play with FALLen, Raleigh 20, Johnny Fist, Hell's Belles and the Hamiltones, Rumpus Room, MSU, and others.
Published Articles
[
edit
]
Opening minds to new music, City Weekend, 24 Dec 1992