Rumpus Room
From HtownWiki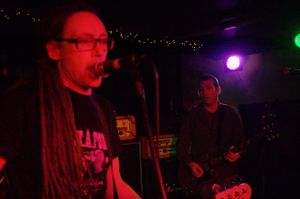 Rumpus Room are an indie-rock band who've been around in some form or another since 1996.
Biography
[
edit
]
Rumpus Room started as a non-electric collaboration between brothers Scott Newth (bass, vocals) and Andrew Newth (guitar), both formerly known for the electronic Love and Violence, plus Greg Page (drums) and for a short period Scott Brodie (vocals, woofing; from Inchworm). It formed as something less serious than the Newth's other bands at the time, on instruments they couldn't play.
A number of line-up changes have followed, including the additions of another brother, Kent Newth (guitar), and cellist Jane Pierard. Chris Paki (guitar, vocals), also from Love and Violence, replaced Kent Newth when he left to live in Korea. Jane left for Wellington, and Andrew took a year off at one stage also.
The single "JBS" (short for "Jane's Birthday Song") was nominated for a b-net New Zealand music award in 1999 and topped the New Zealand Alternative Radio play charts for three weeks. The Greg Page directed video tied for first place (with the Black Seeds) for the Knack Award at the Flying Fish New Zealand Video Awards in 2000.
Chris left at the end of 2012, and Kent returned. The current line up comprises Scott Newth, Andrew Newth, Greg Page and Kent Newth; Scott and Greg have remained constants throughout.

Discography
[
edit
]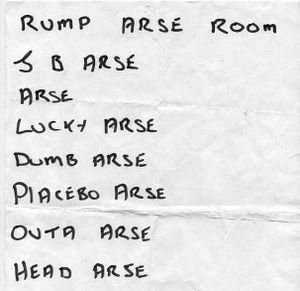 External Links
[
edit
]