Watershed
From HtownWiki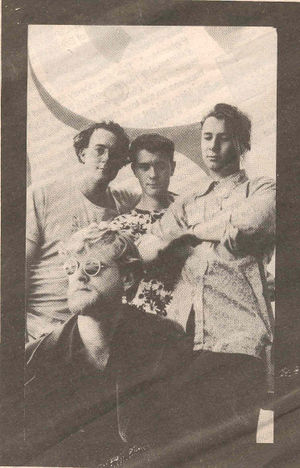 Following a decided dirth of punk, post-punk or "alternative" music to come out of Hamilton throughout the 1980s (with a few notable exceptions), Watershed were an important underground guitar band to emerge from the city during the late 1980s. True to their namesake, Watershed (together with Pieces of Cod and Frybrain) broke the waters and aided the birth of a vibrant new scene that followed soon after.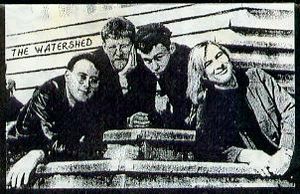 The Watershed, as they were sometimes known, began loosely in 1987; initially as a six-piece featuring Marcus MacRury (guitar), Chris Barnett (bass), Richard Lennox (vocals), Sarah Oliver (keyboards), Rob Hamlin (drums) and John Paul Oliver (guitar).
The band's first 18 months or so were dominated by several lineup changes, which included Steve Purdia on guitar and Terry Edwards on drums. However, by early 1989 they had stabilised as a four-piece led by founding members Marcus MacRury (also assuming lead vocals) and bassist Chris Barnett, joined by Kent Ericksen (guitar) and Jonathan Armstrong (drums). This quickly became the definitive lineup of the group (performing all of their releases until the band's eventual demise), and all 4 were to become important figures within Hamilton music of the era. It was also during 1989 that Watershed's recorded debut Airhead appeared on the local Surf Music compilation, and became a favourite on Contact 89FM.
In 1990 Watershed supported The Chills in Hamilton and at Auckland's Town Hall on the popular Submarine Bells tour. The band also played support for Straitjacket Fits, The Clean and UK band Pop Will Eat Itself during their time together.
In 1991 the Watershed song Spark appeared on the Flying Nun Freak the Sheep compilation. During 1991 Watershed also released the 5-song cassette Jeanna - an Aeroplane. When Kent Ericksen went overseas later that year, Watershed's remaining three members became Anaganasnagamal.
They also had an exclusive posthumous track Take This That Way included on Discordia Concors in 1993.
Published Articles
[
edit
]