Pregnant Hippies
From HtownWiki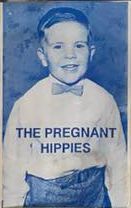 Pregnant Hippies formed in 1991 by Ross Holloway (guitar, vocals) and Stan Jagger (now on drums) following the split of The Alchemist, with the addition of Chris Paki (guitar, vocals) and Jagger's former Mudpeople bandmate Adam Hyde on bass.
During roughly the same period, Jagger, Paki and Hyde were also members of Jam Sandwich (along with Gillian Woods, who also played with Holloway in the acoustic duo Sour Grapes - and Greg Locke, who was in turn responsible for recording most of the aforementioned bands). Adrian Scott of Cygnet Committee also played bass with the Hippies at times. Hyde, however, remained on board; sometimes the band played with Adrian Scott, and other times with Adam Hyde.
The band had been formed primarily as the live vehicle for Ross Holloway's songs, including some from the popular Two White Eyes back-catalogue of the '80s but mostly material that had more recently been written and performed within the ill-fated Alchemist. Stan Jagger says that Pregnant Hippies never actually wrote or recorded any original material of their own, although Holloway is quick to point out that although that may be true, the original ideas and level of musicianship that Stan, Chris, Adrian and Adam each brought to the group's live performances meant that Pregnant Hippies were in many ways a distinct and original band.
These accounts would appear on the surface to be at odds with the fact that the Pregnant Hippies are credited with performing six new songs on the 1991 album A Decade on the Hamilton Underground, an album that documented the songs of Holloway's various bands from 1981-1991, released on Orange Recordings. Holloway explains that he was eager to move on from the unhappy Alchemist chapter and so Pregnant Hippies became the moniker for all of his original output from that period; the tracks released under the Pregnant Hippies name on Decade... are in fact a collection of either solo or Alchemist recordings.
Holloway went to Melbourne in around 1993, while the remaining members of Pregnant Hippies each continued to play a very active role in Hamilton's alternative music scene.
Sources: Stan Jagger, 09/10/06 and Ross Holloway, 14/10/06