Inchworm
From HtownWiki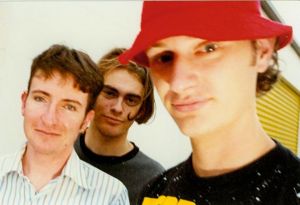 Inchworm were one of Hamilton's more successful indie pop/rock bands in the mid to late nineties. The band formed in 1993 when drummer Rob Talsma (ex-Dream Mary) joined with Spatula Death's Justin Harris (guitar) and Scott Brodie (bass). The band shared vocal and song-writing duties.
Inchworm burst onto the scene, winning the 1993 Waikato Rock Awards. They turned down the five year deal they won with Hark Records, choosing instead to release recordings independently on their own Dedear label. Their debut EP, "Looper", was released in 1994. The band then contributed the track "1987" to "The Fridge" compilation in 1995. The album "Shiny" was recorded between February 1995 and February 1996, and included re-recorded versions of two of the tracks on Looper (Come out, Come out, wherever you are and It means a lot to me). It was released on May 10, 1996, with a release party at The Exchange supported by Scribbler and Love and Violence. The band's second album (and final release) was "You Are Only Here", released in 1997. You get to me, from this album, was included on the Green Eggs and Hamilton compilation.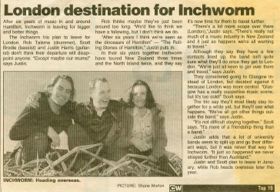 Inchworm were awarded NZ On Air funding for three music videos (all directed by Greg Page) and self-funded two others. Their videos, Shine, It Means a Lot to Me, Come out, Come out, wherever you are, Umbrella and Give Up, all received TV airplay. In all they had tracks on six Hamilton music compilations and contributed seven times to the NZ On Air Indie Hit Discs (more than any other band in the latter compilations history). The band played regularly in Hamilton, and undertook three national tours. Significantly, they played the Big Day Out music festival in 1996.
Inchworm played their final gigs through 1999. A tribute gig was held on 24 April 1999, which included Schrodinger's Cat, The Grinners, Nodrog, Southern Tribe, Rumpus Room, MSU and Hollow Grinders; each played songs by Inchworm. In an article in September 10 1999, City Weekend reported the band were leaving Hamilton to base themselves in London. However, Justin did not join the other two. In England, Scott and Rob formed a band with Sarah Ferguson (formerly of Tobermorie) called Girlinky.[1] Girlinky released a cover of the Inchworm song Umbrella on their first single, My Huge Head. Following the breakup of Girlinky in early 2006, Scott and Rob have played together again in Grok. A three song EP titled Tapeworm was released posthumously by Inchworm in 2007.
In 2016, the band reformed for a one-off, sold-out, performance at Nivara Lounge. In the days leading up to the performance, the band spent time at The Porch Studio recording new songs for a potential future release.
Releases
[
edit
]
Published Articles
[
edit
]
An Inch Closer to Stardom, Nexus, 11 October 1993, P12

Inchworm measures success, by Lynda Drumm, Waikato Times, 13 October 1993

Inching toward the big time, Challenge Weekly, 16 February 1994

The Worms Turn, Waikato Times, 28 June 1994, P13

Inchworm Interview by Matt Gould, 18 July 1994, P34-35

Inchworm "Looper" Review, Nexus, 15 August 1994, P22

Inchworm are going it alone, Evening Standard (Palmerston North), 17 May 1995

Enjoying their success, The Daily News, (New Plymouth), 18 May 1995

Inchworm, Pavement magazine, April 1996

Last of the Independents by John Miller, Nexus, 6 May 1996, P18-19

Shiny CD review by John Miller, Nexus, 6 May 1996, P20

Inching forward, by Tania Hall, Waikato Times, 7 May 1996

Inching forward, City Weekend, 10 May 1996

Inchworm take the indie stance, Sunday Star Times, 13 July 1997

Inch by inch, Waikato Times, 15 July 1997, P11

Inchworm; Measure of success, NZ Musician, Aug/Sep 1997, P41-42

Inch Music, Tearaway magazine, Nov 1997

London Destination for Inchworm, City Weekend, 10 September 1999, P14

Inchworm by Emma Philpott, Rip it Up, January 2000, P9

Inchworm's Return by Ian Duggan, HUPzine Issue 2, February 2016
External Links
[
edit
]