Justin Harris
From HtownWiki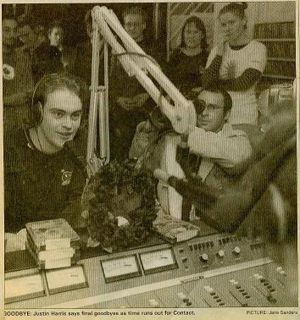 Justin Harris was a guitarist and vocalist in Spatula Death (formed primarily to teach himself to play guitar), the popular Inchworm, and the short-lived Groll. He wrote the Hamilton music "rumours" column for Rip it Up on-and-off between 1993 and 1998, organised the inaugural Contact 89FM Battle of the Bands in 1993 (and others in the late 1990s), and also the Spatula Death Battle of the Bands "competitions" (1995-1997).

Justin was a popular announcer on Contact FM through most of the 1990s, and also announced for some time on UFM and The Rock (where he managed to play the likes of Watershed and Book of Martyrs unnoticed). While working for Contact, he coordinated the release of the 1997 Green Eggs and Hamilton compilation, and was the host of the stations final broadcast in 1998. He also aided in the coordination of the 1992 Hamilton music compilation Juice Extractor.
Harris has also recorded under the name DJ Soil Sample. Harris left Hamilton for Japan in late 1999/early 2000. Since 2007, Justin has been recording under the name Elider, and more recently has been performing in a band called The Permanent Residents.
Published Articles
[
edit
]
Elider interview, HUPzine issue 2, February 2016
External Sites
[
edit
]