Spatula Death
From HtownWiki
Spatula Death were formed in Hamilton in 1991 by Justin Harris (vocals, guitars, drum programming, noise) and Scott Schneebeli (guitars, vocals, noise). Scott Brodie (production, noises) joined soon after, and while initally acting in a production role, quickly became a fully fledged member.

In 1993 Spatula Death released a cassette entitled "We Are Spatula". Three songs recorded "live-to-air" on Contact 89FM can also be found on Inside the Wireless.

Post-1993 they often performed as a five piece, including Gary Clare and Matt Gould, although had enough "peripheral" members (including Ian Duggan and Gordon Bassett) to potentially perform as an eight piece. For a number of years they organised annual music events, under the guise of the Spatula Death Battle of the Bands.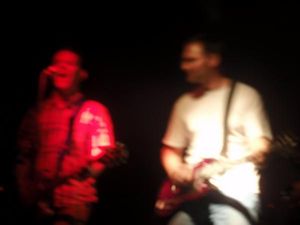 Spatula Death ceased playing in 1995, with their last gig at the 1995 Spatula Death Battle of the Bands. Justin and Scott B had turned their primary attention to Inchworm, formed with Rob Talsma in 1993, with the bands existing concurrently for some time.

In 2007, after a long hiatus, Spatula Death began recording new songs via the internet, with Harris in Japan, Schneebeli in Auckland and Brodie in England. That year, Harris, Schneebeli and Duggan gave a one-off performance in Hamilton (with Greg Page and Scott Newth guesting on two songs) at the Merry Moley Christmas Party event at Yellow Submarine.

The Shrugs covered Be My Nur at Circle Jerk 2005.
In 2020, the song Spatula Death are Coming to your House appeared on the compilation In Thrust We Trust.
Published Articles
[
edit
]
"We Are Spatula" Review, Nexus, 27 September 1993, P27

An Interview with Spatula Death, Nexus, 15 May 1995, P24-26

External Sites
[
edit
]