Two White Eyes
From HtownWiki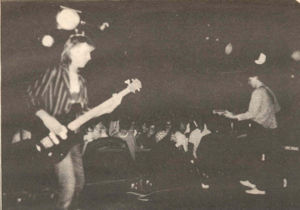 One of the most popular Hamilton bands on student radio in the mid 1980s was Two White Eyes. Formed in late 1984, the earliest stable lineup featured former Room 11 frontman Ross Holloway (guitar, vocals), Paul Donnelly (bass), and Peter Corby (drums), although Ian Chapman initially played drums for a short time.

They played many shows around Hamilton, particularly at Downstairs Oranga, Gurus and Uncle Sams. Front-man Ross Holloway's intention was to shake up the Hamilton music scene, which he believed was 'boring' and 'complacent'; he wanted to have some fun and find out who they really were.


In 1985 Paul Donnelly left to pursue his musical career further from London. Holloway and Corby were joined briefly by Gary Northcote for approximately 6 shows before Chris Worthington (elder brother of Dominic Worthington) became the band's fulltime bassist. Holloway, despite being the primary songwriter behind Two White Eyes, credits Worthington's input with having "brought out a new dimension" to the band, which would ultimately serve to make them more accessable to a wider audience.

The songs Teacher, Young Doctors and especially Thinking of became student radio hits, receiving national airplay and charting on Contact's Alternative Top 11. Thinking of later appeared on the 1986 compilation Weird Culture, Weird Custom, compiled by "National Student Radio" (now B-net) and released on Jayrem Records. Holloway says the band were "very lucky to get on (the compilation) thanks to John Marshall at Contact".

The band played support for The Skeptics and the Double Happies (in one of their final gigs) at O-week in 1985, and The Chills on a later occasion. Another memorable event at this time was the opening of Metropole Nightclub, which, during the mid 1980s was New Zealand's largest nightclub. Metropole's opening was commemorated with performances from Two White Eyes and The Mockers. They also played both Waikato and Auckland University Orientations in 1986, and the same year supported Peking Man at an open air concert in Hamilton.

Having a strong fanbase in Christchurch (at that time a major center for the New Zealand alternative music scene) Two White Eyes decided to relocate there for a period of roughly 18 months between 1986 and 1987. The move, however, was not successful. Peter Corby wanted the band to move to Melbourne, and in retrospect Holloway agrees that they should have, but at the time commitments to a partner in New Zealand prevented the move. The band's popularity also suffered from a dramatic shift in popular culture towards the late 1980s, flowing on from the stockmarket crash of 1987. The "good time" atmosphere of the '80s was drawing to a close, as did Two White Eyes. In 1989 they released the track Halloween Jack on Surf Music.

Holloway during the late '80s and early '90s went on to form the bands Alchemist, Sour Grapes, Pregnant Hippies and the Stephanie Five, and in 1991 released the album A Decade on the Hamilton Underground; a compilation of his output as a songwriter and frontman from several of those bands. Eight songs from Two White Eyes appeared on the album, including studio recordings of their popular radio songs as well as several tracks recorded live at the Hillcrest Tavern.

Throughout their time together, first and foremost Holloway recalls Two White Eyes as having been "a hell of a lot of fun"; a band who were fortunate to have "captured a very optimistic time" during a period that has so often been linked with the youthful "quintessential '80s" ideals of hedonistic non-conformity.

Published Articles
[
edit
]
Two White Eyes interview, Garbage, August/September 1991