Knights of the Dub Table
From HtownWiki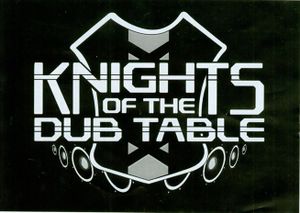 Knights of the Dub Table formed in 2008. Their music is a fusion of dub, reggae, drum 'n' bass, hip hop, trip hop, jazz and funk. The band made the final of the Band Experiments in 2008, the heat being their first ever gig, and took out the final in 2009. The band plays regularly, with major performances including the University of Waikato Orientation and Tribal Pride Music Festival in 2009, and the University Orientation and Shiverdown Festival in 2010.
They released two downloadable EPs, Knights of the Dub Table EP (with a gig on 5 June 2009 at Flow), followed by a remix EP Sing it to Me (late 2009), and by their first physical release Tronic in April 2010. In 2011 they released their first physical album, Way of the Dub. They have released three further EPs since this time. Their releases are through Flax Roots Records.
The bands are now based on Huntly.
Members
[
edit
]
"Mr Samy'samson" (Reti Hedley; vocals, guitar, saxophone)
"Sax'imus" (Matutaera Herangi; saxophone, vocals)
"Ridim'ix" (Chris May; drums)
"Frank'anello" (Frank Ahuriri; rhythm guitar, backing vocals)
"BlackJack" (keyboards, percussion, trumpet, bass)
Past Members
[
edit
]
"Dr Um" (Waylon Turanga-Bowker; drums)
"Sir Cypher" (Tim Heal; bass)
"Adda'mantix" (Adam Jones; keyboards, effects)
"Tootz" (Brendan Putt; trumpet)
Releases
[
edit
]
Published Articles
[
edit
]
Knights dubbed best live band, Hamilton Press, 28 October 2009, P27
Knights of the Dub Table, WSU Oreintation 2010 magazine, P9
Knights on the Charge, Waikato Times, 6 May 2010, P16
External Links
[
edit
]