Harden Up, Ow
From HtownWiki
Known as either The Hamilton Circle Jerk or Harden Up, Ow, this event is the brain-child of Mark Tuhupi of St Lucy. It features a number of Hamilton bands of various genres, each playing one or two covers of other Hamilton bands' songs, as well as one original tune.
This event was orginally named The Hamilton Circle Jerk by Mark, however it was renamed to help with promotional purposes. The original poster proved popular though, and the Circle Jerk name continued to be used by many Htown.co.nz members.
Hamilton Circle Jerk - 2005
Held at Diggers Back Bar.
2005 - Line Up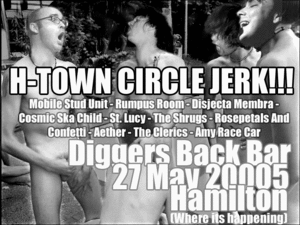 2005 - External Links
Htown.co.nz Discussion
Review - Robyn Gallagher
Photos on petrajane.com