Tsunami Band
From HtownWiki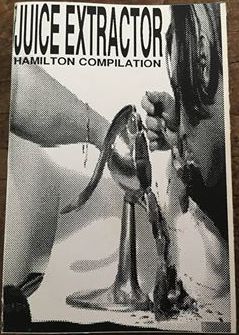 Formed in 1989 by songwriter Mike Miller (vocals, piano, guitar), the original Tsunami Band also featured Martin Fisher (double bass) and Kent Ericksen (drums). Stan Jagger (guitar) and Sue Elliot (backing vocals) joined the band when they began recording, and Peter Caldwell (percussion) soon completed the lineup. This lineup was together until c. 1993.
They had the song Calcutta on the 1989 Surf Music compilation, which received high rotate playlisting on Contact 89FM. In 1991 they released an EP titled Tsunami Band. In 1992 the song Gravity Seeds appeared on Juice Extractor.
In 1993 Fisher was replaced by Greg Locke on bass, vocalist Sue Elliot was replaced by Marg Fussell, and Peter Caldwell switched from percussion to keyboards. Miller, Jagger and Ericksen remained, and this lineup released the song Spit Out the Sun on The Fridge compilation.
Also in 1993 the song Super Nature became another favourite on Contact, and the following year The Bastard Tree also surfaced on the airwaves. This lineup remained together (loosely) between 1993 and 1996, until Mike Miller took an extended hiatus from public performance. Between 1995 and 1996 the band recorded an album with Greg Locke's Orange Recordings, which remains unreleased. Founding members of the band remain committed to completing this significant body of Miller's work.
In 2005 Miller re-emerged on the streets of Hamilton, and the Tsunami Band reunited briefly for a handful of live shows. The lineup at this time featured founding or early members Mike Miller (vocals, guitar, piano), Stan Jagger (guitar) and Martin Fisher (now also on guitar), with the addition of Paul Oakley (bass), Rik O'Kane (drums) and Maria Eaton (backing vocals).
Published Articles
[
edit
]
Tsunami Band interview, Garbage 2, April 1992