My Two Cents
From HtownWiki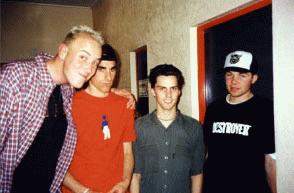 My Two Cents was a hardcore punk band put together in 2001 by school friends Luke McPake (guitar, vocals) and Daniel Silverton (bass) - both had been members of hardcore project Blazon from 2000-2001. Luke had also played with Thrifty, and Daniel had previously played with straightedge metal band Arkane. Joe Hitchcock (formerly of Atomic Garage) was added on guitar, and Jono Gemmel from Mullet Patrol became the drummer.
Co-founder Daniel later left to be replaced briefly on bass by Mark Newbold (of Vargas, Shinkasta and Daredevil), then Jody Stowers, and finally by Steve Uren. My Two Cents gigged with some of the aforementioned bands as well as Kitsch, Misled by Lies, The Red Shift and Holdfast among others, played in the Band Experiments 2001, and big national punk events like Punkfest 2001 and the Punk As 1st Birthday in Wellington. In 2001 they had two tracks on the Against the Wall compilation. They broke up in 2002 and released their EP Paint The View From Yesterday a short time afterwards. Memories from this EP was released on a 2005 compilation titled Underground Resistance.
My Two Cents can be heard faintly on the outro of the luna spark track Rachmaninov, as they were practising a few rooms down the hall at the time of recording.
Luke McPake and Steve Uren went on to form This Night Creeps, and were later joined by Jono Gemmel in 2006. Jody Stowers played in 48 May,
External Links
[
edit
]