Misled by Lies
From HtownWiki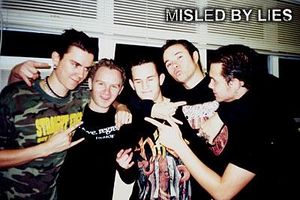 Misled By Lies were a five piece hardcore/metal band formed in April 1999 by brothers Jae and Adam Lurman. They were both formerly in hardcore punk band Vendetta, but decided to pursue a heavier, more 'metal' direction. The group was originally called Selfportrait.
At their peak they were one of the most promising hardcore/metal bands in New Zealand, attracting international label interest and signing first to USA's 105 Records, then to Austria's Burning Season Records.

The band recorded two albums, but never released either. The first, The Parallels of Love and Hatred, which drew heavily from the downtuned offerings of Sepultura and Disembodied, was recorded in 2000. It was scheduled for release on start-up label 105 Records, but days before it was due to be pressed the band had a sudden change of heart, cancelled the pressing and cut all ties with the label. The band stated that 105 Records had continually stalled the album's release, during which time they had already begun working on exciting new material that they claimed rendered all previous works obsolete. However, a number of tracks from The Parallels of Love and Hatred were leaked over the internet.
The second self-recorded MBL album Silence / Acceptance, signed in advance to Austrian label Burning Season Records, suffered from numerous lineup changes during the recording process and was never entirely completed.
Misled By Lies parted ways in August 2002, issuing the statement, "A lot of bands part due to "creative differences", however, Misled was a combination of just about every problem a band could face".

Members
[
edit
]
Original Lineup


Later Lineup

Mat Wadsworth - lead guitar (joined after The Parallels of Love and Hatred) (previously of Promise of Bloodshed (Auckland))
Michael Hoggard - guitar/bass (previously of Convulse; Widely regarding as the 6th member of the band, Hoggard filled in on guitar/bass duties during absenses of other members)
Steven Hunt - guitar (Hunt replaced Mat Wadsworth briefly before the band's split in 2002, appearing once with the band at their final show on March 15 2002 at the Valve in Wellington)
Subsequent Activities
[
edit
]
Bass player/founder Jae Lurman has recently resurfaced in the local music scene, playing guitar for instrumental rock band Sora Shima.
Original drummer Mark Seeny left the band shortly after the recording of Demo 99 to form Daredevil with ex-members of local hardcore acts Shinkasta and Arkane. Daredevil became a force in their own right, sharing a fiendly rivalry with Misled By Lies. Years later Seeny went on to drum for the highly-acclaimed local outfit This Night Creeps.
Drummer Jamie Saint Merat remained with previous band Convulse, then renamed Bloodwreath, who soon transformed into the Auckland-based grindcore/metal band Ulcerate (Auckland). He has also since become a member of 8 Foot Sativa, and is a well known figure in the New Zealand metal scene.
Vocalist Phil Smathers played bass briefly, with Bloodwreath. now plays bass in hamilton metal band TeamKill.
Guitarist Mat Wadsworth left to focus on Promise of Bloodshed (Auckland). There is a song by Evil Priest about him; Free Mat Wadsworth.
Releases
[
edit
]
Demo 99 CDR/cassette EP, 1999 (less than 50 produced and given away/sold)
I See Dead People compilation on Red Scroll Records features Misled By Lies' track Blank
Various out-takes from two unreleased albums, The Parallels of Love and Hatred (2000) and Silence / Acceptance (2002), and earlier demos circulated in MP3 format. Several songs from Demo 99 were available for download from various MP3 music websites. Some short previews are also officially available from the Misled By Lies website.
Demo 99 was written and recorded within a month of the band forming, after just four rehearsals.
Bizzarely, Misled By Lies were invited to play on the Non-Toxic stage at the Parachute Festival in 2000. The band made it very clear to the organisers that no member of the band was religious, but were still urged to appear. The band did so, even performing the highly anti-religious song Nonexistent from Demo 99. The crowd very much enjoyed the performance without realising the potentially insulting content of the screamed lyrics, much to the amusement of the band.
During their time with Vendetta, Jae and Adam Lurman were responsible for writing the music to the local hardcore anthem Hamtown Smakdown. In response to the brothers' ousting from Vendetta, Misled By Lies performed the opening segments of Hamtown Smakdown at a concert held at the Meteor in Hamilton, instead changing the main lyrics to random profanities.
External Links
[
edit
]