Battle of the Bands
From HtownWiki
First held in 1993, this event grew to be probably the biggest event on the Hamilton music calendar in the late 1990s. The 1998 final, held at the Wailing Bongo, attracted around 1000 people.

What was amazing about the Battle of the Bands is that the idea is very cliche but all bands played their heart out for the local crowd and some of the best performances in Hamilton at that time happened on that stage. It was also the stage for very obscure bands beating very popular bands - a particularly controversial heat saw noiseters Armice Pumbpit beating the very popular reggae band Boil Up. Few can argue that Armice Pumbpit weren't spectacular that evening.
The poster pictured here was designed by Fiona Jack who also designed the Fridge CD cover, the Contact logo, and the God Save the Clean cover. Fiona is now a Senior Lecturer at the Elam School of Fine Arts after returning from an art career in LA.
The 2001 competition began as the UFM Battle of the Bands, and ended as the Generator 89.0 Battle of the Bands due to the relaunch held at the end of August.
Winners
[
edit
]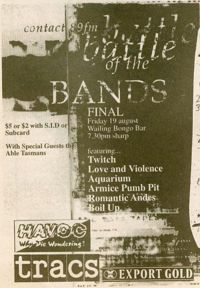 (Click years for details on heats).

(under Contact 89FM)
1993: Swamp Goblin
1994: Romantic Andes
1995: Nihil
1996: Grok
1997: The Nerve

(under UFM)
1998: Trucker
1999: Trinket
2000: Dogs On Prozac

(under the The Generator)
2001: Daisy Chain Halo
2002: Stadium
2003: Chuganaut
2004: Amy Racecar