Aidee Walker
From HtownWiki
Aidee Walker was a member of Hamilton band Handsome Geoffrey (drums) and later the Auckland based bands Duchess (keyboards, backing vocals, percussion) and for a brief time Grande Cobra (drums). Most recently she is vocalist for Jessica and the Jawbreakers.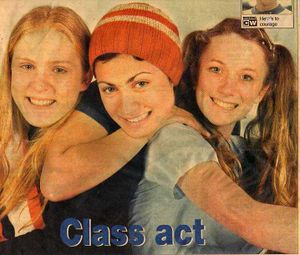 Walker has become more recently known for her film, television and theatre work, and is a performing arts graduate from Auckland's Unitech. In 2003 she appeared as 'Lisa', the lead role in Greg Page's feature film The Locals (2003). Since this time she has also appeared in the 2010 film Drop Dead Gorgeous. In 2013, Walker directed and starred in Friday Tigers, which won the New Zealand International Film Festival Best Short Film and Audience Choice awards.
In television she had a recurring role as 'Draska' on Outrageous Fortune (2005-2007, 2010), and appeared as 'Frances Steed' on Shortland Street (2005). Other television work includes appearances in Mercy Peak, Interrogation, Nothing Trivial, as well as a regular spot VJ-ing on Alt TV. In 2014 she appeared in the TV show Step Dave.
Aidee has also developed an impressive theatre resume, having performed in Auckland in Return to the Forbidden Planet (2003), The Government Inspector (2001), Candide (2002), Play 2.03 (2003), Closer (2004), Undine (2004), The Land of Make Believe (2005), A Clockwork Orange (2005) and The Jungle (2006). Since this time she has performed a number of times overseas, including in And then you Die in San Deigo (2008), London (2009), and at the Edinburgh Festival (2010).
Published Articles
[
edit
]
External Links
[
edit
]