Red Dynasty
From HtownWiki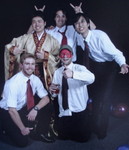 Red Dynasty were formed as Eastbound Train by Chong Feng (bass), Xiyao Chen (GuZheng, keyboards), Marx Zhou (guitar) and Tie Yu (drums). Chong Feng and Marx Zhou had previously played together in Pink Spiders. Tie Yu left the band (and Hamilton), returning to his native China, and the remaining three changed their name on the advice of an Auckland record company who believed Eastbound Train did not have enough impact. While Eastbound Train was primarily a covers band, Red Dynasty wrote originals, playing a mix of western pop/rock and traditional Chinese music. Justin Deng became drummer for the band in August 2006. In 2006 they performed at the Summer Festival at Hamilton Gardens, and in that year two articles appeared on them in the Waikato Times.
Red Dynasty released two albums, the first recorded in China in December 2007 (Red Metal Music Suite) and another recorded in New Zealand in 2008. A number of recordings exist by the band on their website and at amplifier. They describe their music as Chinese classical symphonic metal.
In mid-2009 they changed their name to DragonSoul. Current members are Chong Feng (Chinese Ruan, bass), Xiyao Chen (Chinese Gu Zheng, Erhu, keyboards), Connal Jefferies (guitar) and Emanuel Comer (drums). They are to compete at Band Experiments 2009.
External Links
NB: if the latter sites are searched for in Google, the characters can be translated into loose English by selecting "Translate this Page"