Theatre Royal
From HtownWiki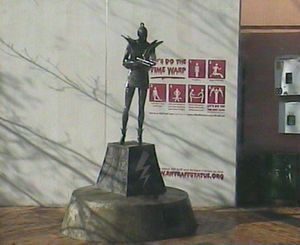 The Theatre Royal opened on 11 March 1915. It was designed by Auckland architect Hugh C. Grierson, who had previously designed the Auckland War Memorial and the Tauranga Town Hall. It was lauded at the time as the most beautiful provincial theatre in the dominion. It was the first theatre in Hamilton equipped with a full stage, and featured a full-height flytower and proscenium. It had a seating capacity in excess of 1000, and a facade in Greek revival style. In 1952/1953 the facade was covered, and it was renamed the Embassy.
The theatre was used both for movies and musical performances. It was Hamilton's primary venue for touring and local stage productions until the opening of Founders Theatre. The Hamilton Municipal Band played at New Years Eve 1918, and the Hamilton Operatic Society had regular seasons until 1961. During the 1950s there were weekly boxing and wrestling matches, and in the 1960s acts like Rolf Harris performed there. The Civic Choir also performed there regularly in the 1960s.
In the 1960s, the building also housed The Three Musicians club.
The Embassy closed its doors in 1991, and was demolished in 1994. The site now houses the Riff Raff Statue.