Founders Theatre
From HtownWiki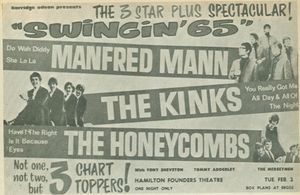 Founders Theatre (a.k.a. Founders Memorial Theatre) is located on the corner of Tristram Street and Norton Road (at 221 Tristram Street), and for many years served as the largest indoor venue in Hamilton. The theatre is furnished with seating on a high gradient floor, with a capacity of 1,249, and is generally more suited to concerts by The New Zealand Symphony Orchestra and The Royal New Zealand Ballet than to most bands. However, a number of notable international bands have played there in the past (see Significant Gigs at Founders Theatre). Founders Theatre played host to the Waikato Rock Awards in 1993 and 1994.
In the 1990s, Neil Finn, who has played there with Crowded House, was known to bemoan that Founders was the only venue of its size in Hamilton, lamenting that it was inadequate for the purpose of providing an appropriate viewing experience for attending touring bands. This role was eventually taken by Claudelands Arena in 2011.
The building was designed by local firm White, De Lisle and Jenkins, and was opened on 17 November 1962.
See Also
[
edit
]