The Politicians
From HtownWiki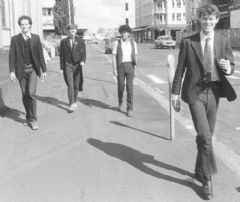 The Politicians were a rock/new wave/reggae band formed in Tokoroa in March 1981, who later became resident in Hamilton. Their two singles, Down in Baghdad and Energy, were played on various radio and television shows, including Shazam and Radio with Pictures. They toured New Zealand for five years playing the pub circuit.

The Politicians were managed by Alan Judd and Associates, who also managed Hamilton bands The Bronx and Echoes. Tim Armstrong left the group in May 1986, going on to found The Kiwi Bandits and the Tim Armstrong band. The Politicians continued for almost another 10 years playing resident at Shakes (Lady Hamilton) niteclub, with Ian Jeffries taking the lead vocal role.

Members
[
edit
]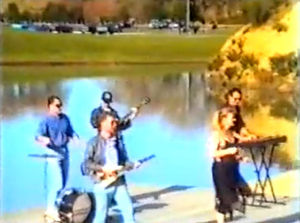 Alan Judd (management)1982-1986
Paul Krippner (sound technician)
Kevin Poppelwell (lights)

Other members included Liam Ryan, Lance Healey, Warren William

Releases and Songs
[
edit
]
Other Politicians songs played live included "Englishman", "Gondala lover", "Teacher Teacher", "Shift worker", "Dine and Dancing", "Puppet people", "Arabian girl", "Licence", "Oh Lisa", "UFOs", "Relationships", "Hongkong" and "Love or lust".
External Sites
[
edit
]