Alan Deare
From HtownWiki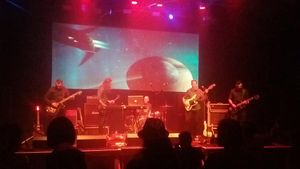 Bassist Alan Deare was originally in a Rotorua band called Number Thieves along with Jonathan Armstrong. He and Armstrong formed Book of Martyrs around 1988 and moved to Hamilton in 1990, continuing with the group until 1993. Deare and Armstrong shared vocal duties in the band, and Deare's distinctive style of bass playing was one of several unique aspects of the band's overall instrumentation to distinguish them on the New Zealand music scene at the time.
In 1995 Deare was the bassist for Gas. In 1996 he completed a degree in Media Arts at the Waikato Institute of Technology, and headed to Auckland's Inhouse Design Inc. He has since produced critically acclaimed work for galleries such as Objectspace and Anna Miles, and received the Spectrum Book Design Award for Best Cover.
Between 2002 and 2003 Deare was a member of Henderwood. 2008 saw Deare join Laughter in the Mainsail, which disbanded in 2010. This was followed by a short stint in sink \ sink (2010) with Laughter in the Mainsail vocalist Jamie Dryden, Gareth Schott (guitar) and Greg Thomas (drums), before Dryden and Deare formed Blood Pops. Blood Pops has included contributions and performances from his son Stenn Francis-Deare (The Dusk, Frankie). In 2018, Deare appeared with System Corporation at Future City Festival 2018.