The Clerics
From HtownWiki
Bio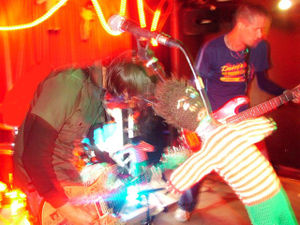 The Clerics are a three piece band based in Hamilton, New Zealand. They play short tunes with bass, keys, guitar, drums and voice.
Clerics live shows are lively affairs - the band heartily encourages audience participation - with sometimes 20-30 songs in a single set.
Members
Mahaj Baldavich: drums/voice

Vince Cunnington: bass/voice

Babar keys/guitar/voice

History
The Clerics formed in mid-late 2004 and played their first live show in October 2004. In February 2005 The Clerics released their debut album Graveyard of the Dead, a nine track album (with bonus video Cautions). In June 2005 The Clerics commenced a nationwide tour with Gadget Goose and Amy Racecar. July/August 2005 saw The Clerics hit the road to support the release of their second album The Bitches Will Fly, with a tour across the North and South Island. October 2005 saw the third album release from them, capping off their year with Desperation on the Dancefloor. This album marked a departure from previous releases by The Clerics with the exclusion of guitars, instead using only voice, bass, keys and programmed drums. The Clerics played around 30 shows through 2005. They last played in late November 2005 and are currently 'on hiatus'.
Releases
Cautions - music video included in an A Low Hum DVD compilation
Label
Hit Your Head Music
External Links