1ZH
From HtownWiki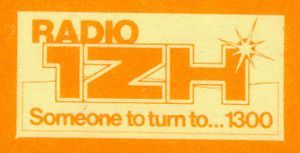 1ZH (for a time IXH, was a Hamilton based AM radio station/frequency operating from around 1933 until 1990. Initially broadcasting as '1ZH', the station became '1XH' until 1948; the station again became 1ZH from 1969, which continued to operate until 1990. The station broadcast on 1310AM from 1949 to 1978, and then moved to 1300AM. Switching to the 98.6FM frequency on 25 May 1990, it became ZHFM.
In the call sign, the 1 referred to the upper half of the North Island, while the last letter of the name denoted the first letter of the location (i.e., Hamilton). The X denoted that the station was a private commercial station, but following a change to being a NZBC funded public service radio broadcaster, the X was changed to a Z. In 1988, the old 1XH call sign was re-assigned to Radio Rhema in Hamilton, who broadcast on 855AM.
The station was based in Broadcasting House at 20 Alma Street from its inception, with ZHFM moving to Hardley Street in Hamilton North in 1996. The Alma St building, built in 1927, had previously acted as the Municipal offices for the Borough of Hamilton.
Announcers included "Swampy" Marsh, Geoff Bryan, Paddy O'Donnell and Ronnie Philips. Dylan Taite also worked there.
External Links