Stardrunk
From HtownWiki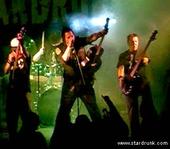 Stardrunk were a Hamilton/Tauranga post-grunge rock band. Formed in 1999, they released their debut album Complete Control in 2004.
Biography
[
edit
]
Described by Nexus as, 'a colossus of sound... (with) thunderous grooves and aggressive delivery,' Stardrunk were a band that polarised Hamilton music lovers. Many saw their sound as too commercial, and pandering to the lowest common denominator; others found it to be powerful and unique within their grunge/nu-metal genre (lead singer Andrew Holmes played an acoustic guitar almost exclusively, and almost never resorted to rapping as many other similar bands did).
Both Stardrunk and fellow Htown rock band Stadium made the finals of the 2002 National Battle of the Bands. As both groups shared many of the same fans and friends, a bus was hired to ship them all up to Auckland for the grand final (held at the Powerstation). Both played well, but on the night Stardrunk were considered one step above the other nine groups, and took it out.
Their debut album Complete Control was released in 2004. This was the follow-up to their second E.P., Overstay E.P..
Original copies of the first, self-titled E.P. are highly sought after by fans. After their sudden disappearance in 2005, they released almost every single song for download from their website (no longer online).
Startdrunk's music is available on Spotify [1].
Releases
[
edit
]

Singles
[
edit
]
Complete Control

Stand Tall

Coin

Wanna Let Go

Fallen

Coin (1999)
Bipolar appears on the 2002 promo CD NZ on Air Indie Hit Disc 20
Bipolar appears on the 2002 compilation Zero Point One
Simple Days appears on the 2003 promo CD NZ on Air Indie Hit Disc 24
Stand Tall appears on the 2004 promo CD NZ on Air Indie Hit Disc 29
Coin appears on the 2004 compilation Axe Attack Metal CD Compilation Vol 1
Wanna Let Go appears on the 2005 promo CD NZ on Air Indie Hit Disc 33

Members
[
edit
]
External links
[
edit
]