Buzz
From HtownWiki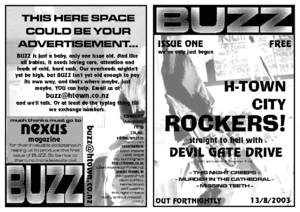 Htown music zine published by Dan Duran, ran for seven issues in late 2003.
History
[
edit
]
Buzz was initially planned to be a traditional photocopied zine, that would eventually become a music mag proper, whilst remaining true to its Htown roots. With help from advertising guru Laura, and photocopier access/supplies from Roz and Geoff, the fortnightly eight-page A5 sized zine got off to a good start, with a run of around 150 for the first few issues.

Around the time Buzz launched, Dan Duran and drift came into contact, and set up htown.co.nz (which proved to outlast Buzz by many a year). Htown.co.nz was first publicized in the zine.

The long term prospects for the zine began looking shaky after a band who'd received a mixed review took offence, and began physically threatening the author (Dan Duran). After an incident at a bar that perhaps all parties involved regret ever occured, Buzz was put on indefinate hiatus; never to return.
External links
[
edit
]