Antagonist
From HtownWiki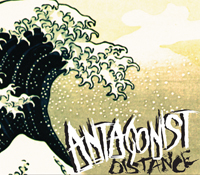 Formed in early 2005, Antagonist features Sam Crocker (vocals), Ross McDougal (guitar), Israel McDean (drums), Josh Moffitt (bass) and Kris Bosman (guitar). Under this name they released one album, These Cities, Our Graves (2006), and one EP, Distance (2007). The band played the Auckland Big Day Out 2007, and Hamtown Smakdown in 2007 and 2008. The band toured Australia for the first time in 2006, playing in Victoria and South Australia. There they supported local bands Stronghold and Her Nightmare, and in Queensland played with US band Most Precious Blood.
In 2008 the band changed their name to Antagonist AD, due to an American band having the same name, and as they aimed to play more overseas. Under this name they released their second album, We are the Dead, in 2008. In 2009 Antagonist AD have played Australia twice, playing with The Red Shore (AUS), As Blood Runs Black (USA), Earth Crisis (USA) and Day of Contempt (AUS). In 2009 they also toured the Philippines, Singapore, Thailand, Malaysia and Indonesia, and headlined a tour in Japan.
In 2011, they released an EP titled Old Bones Make New Blooms.
Published Articles
[
edit
]
Antagonist, Rip it Up 318 (Aug/Sep 2007), P29
Hamilton Band to Play Big Day Out, Hamilton Press, 24 October 2007
Golden Years, The Groove Guide 242, 22-28 October 2008, P13
External Links
[
edit
]