The Htown Wiki
From HtownWiki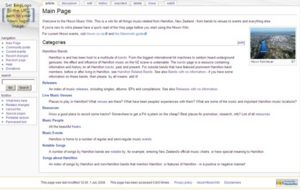 The Hamilton Music Wiki', originally called The htown wiki, was first set up in April 2006 by Dan Duran. It is an editable "wiki" site, which includes information on bands, venues, events, musicians, releases and music stores, both past and present.
Initially housed by a commercial wiki farm, elwiki, from mid-2007 this server became less stable. The site began to commonly go down for several days, eventually disappearing for a period of three weeks in August 2007, and was even listed by wikipedia as "dead" during this time. The elwiki administrators had become widely known for being unhelpful and unresponsive, and almost all of the sites remaining on that wiki farm were seemingly abandoned and heavily vandalised. In September 2007, the entire htown wiki site was migrated to the current "expdev.net" site, hosted by Gian Perrone, in the fear that the 1000+ pages housed on the elwiki site at that time would be lost. The fears were warranted, as the elwiki site became inactive for several months within weeks of the migration, and eventually became entirely inactive.
In December 2014, the Htown Wiki Facebook page was started, to better enable readers to keep up with changes on the wiki, and to provide interesting links and stories about the Hamilton music scene. In January 2016, a Twitter page was started covering stories from the Facebook page.
External Links