Richard O'Brien
From HtownWiki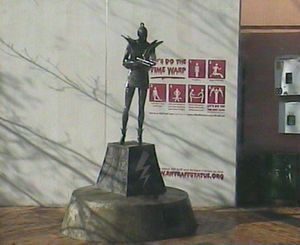 Richard O'Brien is best known for being the writer, including of the music and lyrics, for the musical The Rocky Horror Show. Several of the songs featured in the Rocky Horror Show, and the later movie adaptation The Rocky Horror Picture Show in which he starred, were inspired by O'Brien's time living in Hamilton. The song "Whatever Happened to Saturday Night", for example, was inspired by an evening as a "bodgie bastard" with greased hair and tight jeans at Hamilton Lake. The Riff Raff Statue, of the character Riff Raff from the musical The Rocky Horror Picture Show, was erected in Hamilton in his honour.
Richard O'Brien was born as Richard Timothy Smith (born 25 March 1942) in Cheltenham, Gloucestershire, England, later taking on Richard O'Brien as a stage name. In 1951, O'Brien emigrated with his family to Tauranga, where his father had purchased a sheep farm. He moved to Hamilton fot two years while at intermediate school, and again between 1959 to 1964, where he worked as a hairdresser at the site of the old Embassy Theatre, approximately where the Riff Raff Statue now stands. He returned to England in 1964.
The Rocky Horror Show opened at the "Theatre Upstairs", London, in June 1973. Around this time, he and his wife recorded and released a number of pop singles under the name Kimi and Ritz. O'Brien has written a number of other musicals, and starred in a number of other movies.
Selected Published Articles
[
edit
]
Riff Raff returning to old haunt, Waikato Times, 12 December 2003
It's a rocky road for Riff Raff, Waikato Times, 25 February 2004
External Links
[
edit
]