Max Christoffersen
From HtownWiki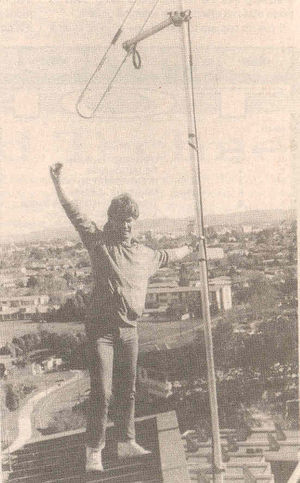 Max Christoffersen was the manager of Hamilton's student radio station in 1985/1986 and initiated the station's switch from Radio Contact on 1440 IXC to Contact 89FM.
Christoffersen became station manager in 1985. On his first day as Manager the station received a formal listener complaint after announcers played Australian comedian George Smilovici's 'I'm So Tuff..' EP. On the same day, one of the turntables built from a washing machine motor broke down. Under his reign the 'alternative' music format was widened to include musical genres previously unplayed on any Hamilton radio station and rarely played on any other student radio station in NZ. While the format shift was unpopular in some alternative music sectors at the time, Christoffersen's introduction of specialist music shows ranging from The Axe Attack to Praisable Vibes and punk rock to acoustic music set a new standard in student radio programming in Hamilton.
Student centered information services were also added to the broadcasts such as Job Search, and the Accommodation and Movie guides that remained a staple until the closedown of the station. He was also the first manager to write weekly articles in Nexus about the station.
Christoffersen acted as a director of Contact 89FM Ltd. in the late 1990s, and made an unsuccessful bid to buy the station prior to its sale and closure.
Christoffersen later went on to establish Max FM, Hamilton's first NZQA recognised radio school at The Waikato Institute of Technology (Wintec). Max FM carried on where Contact FM left off focusing on student centered services and a music playlist that featured a 'new school - old school' rock format and a range of specialist music programmes.
In January 2009 Christoffersen launched Kiss-FM 88.1 at Mt Maunganui. The rock music format first explored on The Axe Attack in the 1980s was revisted at Kiss-FM with dedicated progressive rock programmes and the 'The Late Shift' providing Mount Maunganui with the 'hardest nightly rock radio show in New Zealand.' The station was designed as a musical gateway for local musicians and was welcomed by local musicians who had struggled to gain airtime in the Bay.
Described as being the country's first 'Music-on-Demand' radio station, Kiss-FM featured on-line real-time requests, mobile phone apps (with streaming album art) and a musician's Dropbox as a central site for new music sharing between bands and listeners.
In 2011 Kiss-FM released 'Kiss-Picks' the first dedicated compilation of local Bay music in 25 years. With 14 local tracks delivered on a Gibson Les Paul guitar flashdrive, the compilation received positive reviews for its innovative style. [1]
Kiss-FM stopped broadcasting on October 25 2011. Christoffersen took the station off-air following an unsuccessful bid for the Bay of Plenty's non-commercial FM licence on 106.2FM. After requests from local listeners Kiss-FM was relaunched on-line at www.kissfm.co.nz in January 2012. [2]
Christoffersen is continuing to lobby government for the right to broadcast on FM with the aim of creating a positive local music culture in the Bay of Plenty.
Today the 106.2 frequency remains unallocated, unused and silent.
In December 2018, Christoffersen launched Max-FM 88.1 at Whangamata. Broadcasting as a sister station to Kiss-FM, it is Whangamata's first dedicated rock radio station with shared playlist and dedicated programmes.
Max passed away on 2 March 2019.
External Links
[
edit
]
Rock music trailblazer, fearless columnist Max Christoffersen dies, Stuff, 3 March 2019 [3]