Community Radio
From HtownWiki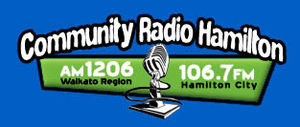 Community Radio Hamilton (formerly "AM1206") was formed in December 1991 by volunteer broadcasters, with financial assistance from New Zealand on Air and grants and sponsorships from a number of community groups.
The station began broadcasting on the 7 December 1991 from a small studio located in Collingwood Street. At that stage the station broadcast for only a few hours per day, with a limited range of shows. In 1993 the station relocated to the current larger premises in upper Collingwood Street, allowing for increased office and production space. In 2000 the station received several grants from a range of agencies allowing the building of a second studio, used for occasional live broadcasting, but more importantly allowing for effective training and production work.
On the 21 December 2001 the Prime Minister, Helen Clark, attended a function to open the studio, and to help celebrate the stations 10th anniversary. In 2003 Community Radio Hamilton underwent significant change with the adoption of a new Strategic Plan, which introduced new management roles, and subsequently a new focus on delivering a more diverse range of programmes and greater community involvement.
In February 2005 the station launched its FM signal (106.7), giving listeners greater choice and making Community Radio Hamilton a viable listening choice for a generation of listeners for whom AM radio is a relic of the past. In August 2012, the station changed its name to Free FM, and began broadcasting on the 89FM frequency.
External Links
[
edit
]