Difference between revisions of "Z Amigos"
From HtownWiki
(Added all members; more accurate description of style; some info on Tom Chapman-Smith)

 

(No difference)
---
Latest revision as of 03:59, 10 May 2020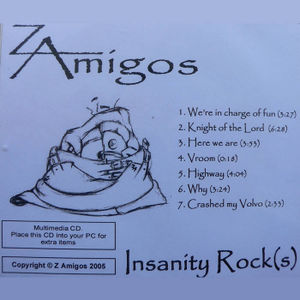 Z Amigos was a Hamilton band based pop-rock band, which incorporated elements of heavy metal, folk and rap. They formed on 2001 as a drama group, evolving into a band in 2003. All members were Christians, with their songs reflecting this. They released an album in 2005 called Insanity Rock(s). The band played at Parachute Festival in 2004 and 2005, and split up around 2006. Lead vocalist Adam Helliwell went on to IronStein and Ceolskog. Flautist Tom Chapman-Smith went on to join Eshalon. The band played a reunion gig on 18 January 2014.
Band Members[edit]
Brenz McGillan (rap vocals)
Jason Grimmer (rap vocals)
Adam Helliwell (vocals, guitar)
Jason Preston (vocals, acoustic guitar)
Kraz Scott (drums)
Evelyn Preston (bass)
Tom Chapman-Smith (flute)
Kane Griffin (keys, bass)
External Links[edit]