Difference between revisions of "Top 13"
From HtownWiki
Line 1:
Line 1:
−

wh0cd405321 <a href=http://ventolin-hfa.party/>ventolin</a> <a href=http://celebrex-online.eu/>celebrex online</a> <a href=http://cheapcialis.us/>cost of 5mg cialis</a> <a href=http://bupropion-online.bid/>bupropion online</a> <a href=http://cipro500mg.gdn/>cipro 500 mg</a> <a href=http://baclofen-online.eu/>baclofen 10 mg tablet</a> <a href=http://lisinopril0.top/>lisinopril</a> <a href=http://buyamoxicillin.info/>amoxicillin</a>

+

:.

 
+

a -.<>

 
+

 

 
+

a . a .<>

 
+

:

 
+

.<>

 
+

 

 
+

-.<>

 
+

 

 
+

a top a .
---
Revision as of 21:07, 22 January 2017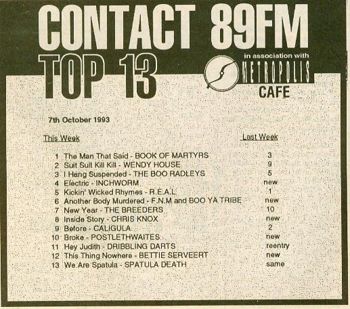 Contact 89FM had a Top 13 countdown of songs voted for by their listeners that started in 1989. This countdown followed on from the Record and Cassette Warehouse (1987) and Tracs (1988) Alternative Top 20, which in turn followed the Alternative Top 11 that the station had broadcast in previous years. In the late 1980s and early 1990s it was broadcast between 7 and 9pm on Sunday nights, moved to Thursday nights in 1991, but by the mid-1990s had moved to Wednesday between 7 and 8pm. Shane Booker hosted the show for some years from around the mid-1990s, alternating with Kevin Glover from 1996 onwards.

The Top 13 was sponsored by Peachgrove Pharmacy in 1990, by Tracs in 1991, and then by Metropolis Caffe for a number of years. Demo Street Wear also sponsered at a later date.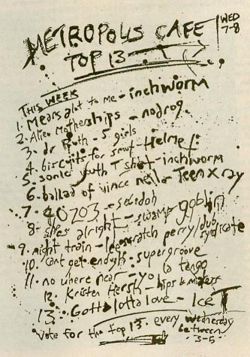 Songs could only be on the chart if they were on the stations "current" playlist, but did not include classic songs also played on the station at the time. However, many older Hamilton songs did make the Top 13 when released on the retrospective Hamilton compilation Discordia Concors. The most successful song on the Top 13 was Risingson by Massive Attack, which spent over 10 weeks at number 1 and 26 weeks on the chart. Mutilated Lips by Ween spent over 3 months on the chart.

Through the early to mid-1990s, Hamilton bands typically had strong support from the listeners that was reflected in the Top 13.

For years before the closedown of Contact 89FM in 1998, the Top 13 was considered one the stations flagship shows. Fittingly, a "Final top 13" was played on the last show the day it ceased broadcasting (17 June), being a countdown of songs voted for that had been played on Contact over the stations existence.