The Slit Family
From HtownWiki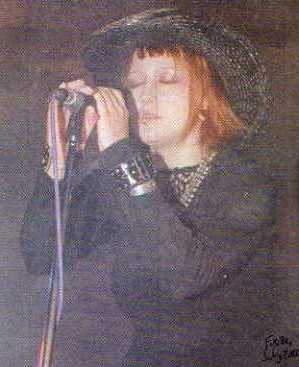 Stylistically The Slit Family combined abrasive, metallic guitar riffs; mechanical, industrial-influenced rhythms; samples and sporadic, seemingly "detached" vocals; and an undercurrent of dark, ambient electronica. Comparisons have been made to Ministry, Godflesh and others, whilst closer to home, earlier Hamilton bands Nihil, Usine and Department of Corrections may provide some point of reference.

The Slit Family is just one of several transitional incarnations of a long-standing collaboration stemming back to about 1998, and which has continued under different names to the present. Under the name The Slit Family (and sometimes simply Slit) they were active roughly between 2000 - 2002. Core members were Paul Innes a.k.a Pauli (vocals, guitar, keyboards, programming, etc), and Evay Judge aka EvL J (drums, percussion, programming, keyboards, production, etc). Prior to Slit, Evay and Paul's collaborations together were as members of Diastop. For The Slit Family a third member Rabi Basnet (bass, possibly other instruments) was also added. This line-up was responsible for their recordings.

Re: confusion about members, see also discussion on this article

When performing live, other members were added to the Family, including frontperson Sarah Richardson (pictured) on vocals (and possibly also keyboards, samples, percussion etc); and Alisha 'leAsh' Judge (sister of Evay) who played keyboards/samples and a metal-percussion rig, especially designed and constructed by Evay and leAsh, and known to the band as The Metal Beast. Other members included Jon Spark (also previously of Diastop) who primarily focused on sound-tech, electronics and percussion; and Ben Burcher who was known to take to The Metal Beast with angle grinders.

"he would use the bloody angle grinder thing on the beast, and the sparks would hurt me... the sparks would fly out and burn me... one time when we played at The Hilly we decided to let off 2 fire extinguishers... it was a very fast way to disperse your crowd."
- interview with leAsh, 8th October 2006

The larger live entity was somewhat anarchic by comparison to the more studious recording unit, with performances compared at times to those of Genitus Lung and Department of Corrections. One performance at a UFM run Battle of the Bands at The Pavillion also sparked some controversy, when members of the band, feeling they had been unduly "fucked around" by the event organisers due to not fitting the mold of what typified a "UFM-sanctioned" band, snatched the microphone from Dean Ballinger during a promotional announcement and launched into an abusive tyrade against the station and its evident politics. The visual stage presence of one or two individual live members may have also been in some way responsible for drawing the "Gothic" label, but in reality the band had diverse (and sometimes incompatable) musical backgrounds and influences. The extended Slit Family ultimately became unwieldy; conflicts arose among the many personalities involved with regards to the direction and original vision of the project, and the band was eventually dissolved.

Releases
[
edit
]
Blindman EP (year unknown) - released as Slit
Compilations
[
edit
]

Pseudos released as The Slit Family
External Links
[
edit
]
[Official BeautifulBurn Site]
(the current project of Slit's founding members)
[EvL Productions @ MySpace]
(Label/Production company involving several former Slit Family members - Official EvL Website currently in Production)