Difference between revisions of "The Riverina"
From HtownWiki
---
Latest revision as of 20:50, 25 June 2019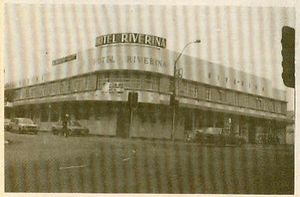 The Hotel Riverina once existed on the corner of Grey and Clyde Streets, and provided a venue for local and put-of-town bands in the early-1990s. Bands initially played in the "Public Bar" on the Grey St entrance, although in its final year (1993) the band venue moved to the Clyde St entrance (which opened under the name "South of the Border"). After closing time, a popular stop for food was Stu's Piecart, immortalised in the song by Mobile Stud Unit, which was parked 50 metres down the road on Grey St. Built in 1951, it was not considered old or architecturally notable enough to avoid demolition in late 1993. The site is now primarily a bank, car-park and small shops.
Significant Gigs
[
edit
]
Bailter Space - September 1992
Jan Hellriegel - 8 October 1992