The Hollow Grinders Dig Chicks
From HtownWiki
The Hollow Grinders Dig Chicks! was the first full length album by Hamilton's premiere surf music combo The Hollow Grinders, released in 2001 on the Claudelands Beach Boardriders Club label (CBBC1). A release gig was held on 11 May 11 2001 at Diggers, with Scooter, Nodrog, Pumice and GJ West the Juggling Cowboy supporting.
All songs written and produced by the Hollow Grinders.
Engineered by Gordon Bassett.
Recorded at 32E Studios and The Fridge.

Personnel
Eddie Hodad - guitar
Biff Bangle - guitar, bass
Dirk Thrust - drums

Tracklisting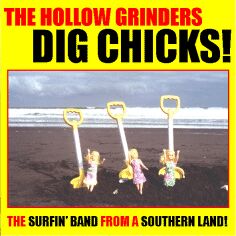 We Dig Chicks!
Piha Death-Rip
Ghost In The Surf
Boom Finder
Moehau Monster
Repo Man
Pania (Of The Reef)
Rhythm & Swing
Two Suits
Hodad Bitch
Raptures Of The Deep
Do The Grinder Stomp!