The Datsuns
From HtownWiki
The Datsuns are a rock band originally from Cambridge. In 1995, while still at school, Dolf de Borst, Phil Buscke and Matt Osment formed a band under the name Trinket. Christian Livingstone joined the band in 1997.
Recording and releasing material on cassette tapes, Trinket built up quite the following around Htown due to goofy yet irresistable songs like Girly Gumshoe and Chocolate Coated Mamas.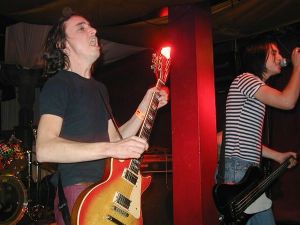 In 1998 they entered the Contact 89FM Battle of the Bands, eventually coming second place to Trucker (for whom Dolf played bass also). The following year the group were victorious, slaying all opposition with ease (the only group to perhaps have a chance of beating them were Handsome Geoffrey).
In early 2000 the band had renamed themselves The Datsuns. In August 2000 they released their first single, Super Gyration! on seven inch vinyl only, with a show at Ward Lane. In July 2002, after featuring several times on John Peel's programme on the UK's BBC Radio 1 and being hailed as "the future of rock" by the British music press, the band signed with the V2 record label.

By the time of their next gig in Hamilton, the band were huge. They sold out Diggers back bar as well as other venues across NZ with ease. Within a year, they were able to charge $25 and fill a venue as large as Altitude - two years prior, they struggled to fill Ward Lane while charging only $2.
They played the main stage of the 2004 Big Day Out festival and opened for Metallica in their Australian tour in the same year. Their second album Outta Sight, Outta Mind was produced by Led Zeppelin's John Paul Jones.
Singles
Fink for the Man
Supergyration
Lady
In Love
Harmonic Generator
MF From Hell
Blacken my Thumb
Girl's Best Friend
Albums
External links