The Band Experiments
From HtownWiki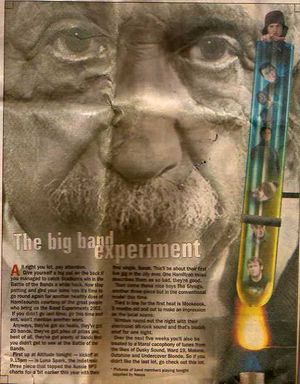 The Band Experiments was a band competition similar to the Battle of the Bands, organised and supported by Click Sound. Inaugural winners in 2000 were the Dead Pan Rangers. In its innaugural year, several bands changed their names for the Band Experiments to avoid being removed from the playlist of UFM, who at that time ran the annual Battle of the Bands. The last Band Experiments competition was held in 2002.

The 2008 Band Experiments will be organised by Mammoth and held around September/October at Flow.
Winners
(Click years for details on heats).


2000: Dead Pan Rangers
2001: Daisy Chain Halo
2002: Nimbus
2008: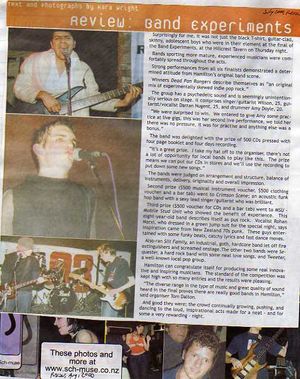 Published Articles
City Musicians Switch Titles in Bid to Win Battle of the Ban, Waikato Times, 6 June 2000, P3
Radio Station Backs Down on Plans to Blacklist Bands, Waikato Times, 14 June 2000, P14