Schrodinger's Cat
From HtownWiki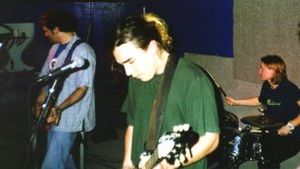 Schrodinger's Cat were a dark indie-pop group formed in 1998. After releasing the EP Joe's Brain in 2000, they underwent a lineup and name transformation into the harder rocking Wonderbug, before splitting a couple of years later.
Biography
Formed in 1998, Schrodinger's Cat predominantly mined the sounds of underground 80s Britain and the Straitjacket Fits to begin with, incorporating elements of trad rock and grunge later on. Zed's jangly chorused Fender sound combined with the harder edges of Mark Tupuhi's to make an otherwise unique and distinctive style, best evidenced on their 2000 EP Joe's Brain. The release party for the EP was held at JBCs, and well attended.
In or around 2001, Aaron Watkinson left the group, and was replaced by _____. The group changed their name to Wonderbug, and Mark took over most of the lead vocals. Showcasing a more driving rock sound, the group dropped some of the old songs and began playing material which would soon provide the basis for Mark Tupuhi's post-Wonderbug project, St. Lucy.
They split around about 2003. Natalie first joined Vetox (then known as SAM), then the Shrugs.
Members
Schrodinger's Cat
Wonderbug
Releases
See also