Nexus
From HtownWiki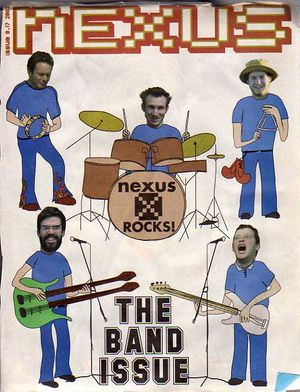 Nexus is the official publication of the Waikato Students' Union, based at The University of Waikato in Hamilton. The paper has had a mixed (although generally positive) relationship with the Hamilton music scene since its inception in 1968. For much of its history, only the occasional story on Hamilton bands (or reviews of their shows) were included, typically peaking around Orientation week (but non-existent through the remainder of the year). The first Contact 89FM column began c.1985, initially discussing shows and music on the station, but by 1990 included information on upcoming band performances and events.
From 1991 to 1994, support for Hamilton bands became extremely strong, with numerous articles and reviews of Hamilton bands appearing each year, reflecting (and perhaps contributing to) the high level of support for Hamilton music at this time. From 1995 the quality of coverage declined, until 1998 when stories on Hamilton bands again became practically non-existent (not coincidentally, the same year Contact 89FM was sold).
From 2000 Nexus again became known for championing of local music - including columns from 'Citric' (Carl Watkins of Daisy Chain Halo fame, who was also editor for a few years, under the pseudonym of 'Ben Arnold'), to Tonamu, and going back a few more years - R William Murphy. However, by 2010 music content again became negligible.
Nexus folowed on from the early Waikato student newspapaers Kato (1956-1966) and The Waikato Student (1967).
External Site