Mobile Stud Unit
From HtownWiki
The MSU are, according to themselves, one of the longest lived, most popular and most controversial bands to have ever emerged from the bowels of Hamilton, New Zealand.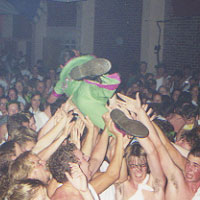 Formed in the early/mid 1990s, rumour states they got their band name from a competition held on local student radio station Contact 89FM. Calling their style of music 'pus rock', the band have always encouraged copious amounts of alcohol to be consumed while watching them play.
Their debut album, My Pyjama's Smell Acidicky was released on cassette in 1994. The followup, Bloodspew, came out in 1998 - each copy's artwork was drawn individually, and came with a lyric sheet/art foldout entitled Sing Along With the Mobile Stud Unit. The album included most of their student radio hits to date, such as Grutsniffer, We Are MSU, Ching Mei Wah, and the all-conquering ballad (which was by all accounts a true story), Stu's Pie Cart. The initial release had a run of around 500 copies.
The band's third album, Flaps, wasn't released till December 2001. Featuring artwork that could make even the Bloodhound gang cry, the record showcased a less punky side to the group, and often bordered on disco - Sexual Health Clinic and Marital Aids were almost danceable, and the tradition of Stu's Pie Cart was continued with Salesman, perhaps the greatest song about Telecom ever written. Still, tracks like Tony Tourettes and Shunt ensured the group couldn't be accused of 'selling out.'
Over the years, several otherwise highly-respected Hamilton musicians have found refuge for their musical non-talents in the Mobile Stud Unit. Members past and present include Dean Ballinger (drums, Hollow Grinders), Aaron Watkinson (bass, Schrodingers Cat), SS Stormtrooper (bass), Jamie Stone (guitar, Trucker, The Nerve), and Chris Paki (guitar, Rumpus Room, the Braxton Hicks). The only mainstay over the years has been Rohan Marx (Marxi), on vocals and keyboards.
The group have never been afraid of controversy - witness their Head Like A Hole baiting Head Up Yr Hole, or an infamous incident where their bass player at the time, SS Stormtrooper, allegedly smashed his guitar over an audience member's head.
In 2003, the band held a 10th anniversary extravaganza, featuring pretty much every member of MSU, past and present, taking the stage at some point during the epic show, and during which SS Stormtrooper initiated a rugby game with a pig's head as the ball. MSU's first release, the cassette My Pyjama's Smell Acidicky, was re-released on CD, with bonus tracks, in celebration of the ten year anniversary.
Members
This list is incomplete. Please add to it if you have more details.
Releases
External links