Love and Violence
From HtownWiki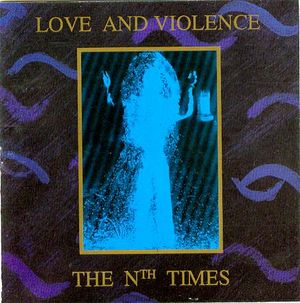 A largely electronic band formed in 1988, Love and Violence were for a short period a popular live act, playing (for example) the Discordia Concors release party in 1993, and a well attended gig at the University of Waikato's Orientation in 1993 (supporting Headless Chickens and Frente). They were also known to make appearances at regular electro-industrial specialist events, including The Bunker in Hamilton and Technohell in Auckland.

Love and Violence initially began life as a duo, featuring brothers Andrew Newth and Scott Newth. They released one tape, The Nth Times, on Airwigg in 1992. The album included the song Sin, featuring a lengthy sample of an American evangelist, which received much airplay on Contact 89FM at that time. Also in 1992, two early songs, Wish and Egyptian Paradise appeared on the compilation Just Teasing V1.

They soon decided that their live shows required more than vocals and electronica, and added Scott Brodie (of Spatula Death, and later Inchworm) on guitar in December 1992. The Nth Times was then re-released on CD in April 1993 with two bonus tracks (both featuring Brodie's guitar work), and had the distinction of being the first full-length internationally distributed CD release from a Hamilton band. The CD release party was held at Ward Lane Tavern on 22 April 1993, supported by Romantic Andes, and copies could be obtained at a discount rate if you held a coupon provided with the original tape.

Brodie had left the band in March, immediately prior to the CD release, to concentrate on Spatula Death, Inchworm, and his studies. His place was taken by Chris Fish, and drummer Marky Mark and was later added. Also in 1993 the Love and Violence track Violator appeared on the Discordia Concors CD, and Time Is Now appears on the They came to take us alive compilation. "Turn To Me" was re-recorded in 1993 and released as a radio single. The video received a number of plays on television and was directed by Paul Swadel. Chris Paki (guitar) was added to the band prior to their break-up in 1997.
The band came to a halt in 1997 with a half finished album recorded at Zoo Studios, which closed due to financial difficulties. Only two songs, "Untitled" (included on the Contact FM compilation Green Eggs and Hamilton) under the Fallen name, and "Confessional" were ever released, using the Love and Violence name again. "Confessional" won a Waikato Rock Award for Best Recorded Work for Scott and Andrew Newth. The video for "Confessional" was directed by Greg Page from a concept by Scott Newth. However, the video was deemed to be 'too dark for TV' and no station would play it.
Scott and Andrew Newth had established Rumpus Room with drummer Greg Page by this time, working again with Scott Brodie, and later Chris Paki. Scott and Andrew Newth (along with drummer Marky Mark, and guitarists Chis Fish) also went on to form the short-lived FALLen in 1997. The name change was due to the new direction the music was taking at the time, and the arrival of Chris Paki on guitar. Chris Fish and Marky Mark also later appeared in Department of Corrections, roughly between 1995 and 1997.
At the 2010 Circle Jerk, Violator was covered by Radio Over Moscow. A studio version of the song was released on the Circle Jerk 2010 EP.
Releases
[
edit
]
The Nth Times album (cassette), 1992
The Nth Times album (CD, including bonus tracks), 1993

Wish and Egyptian Paradise appeared on the 1992 compilation Just Teasing V1
Violator appeared on the 1993 compilation Discordia Concors
Time is Now appears on the 1993 compilation They came to take us alive
Turn to Me (radio mix) appears on the 1993 promo CD Kiwi Hit Disc 5
Confessional appeared on the 1996 compilation BURN
"Untitled" appeared on the 1997 compilation Green Eggs and Hamilton, using the name FALLen

Published Articles
[
edit
]
Love and Violence Interview, L&V CD Release Gig Review, and CD - The Nth Times Review, by John Needham, Nexus, 26 April 1993, P24-25