Katchafire
From HtownWiki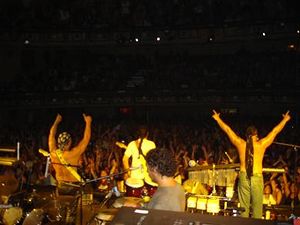 Parts of this article have been extracted from the SLOW-BURNING MEDIA KIT by Graham Reid

Reggae is one of the bloodlines of New Zealand music -- which accounts for the extraordinary success of Hamilton's Katchafire who, two years ago, emerged as the hardest working band in the country.
Their astonishing debut album, the prophetically named Revival released in 2003, sold in excess of 30,000 copies (double platinum) and they scored massive hits with songs like Giddy Up, the biggest selling New Zealand single of 2002 (which they received a Tui for).
Katchafire were, and remain, unique in New Zealand music. They are a viable, touring eight-piece band which can work the length of the country without exhausting the place. They can return to a venue they played just a few months before and pack it out all over again. That is rare for any band.
The success of the band was evident in album sales, opening shows for the likes of Michael Franti and Spearhead, gigs all across the country (three in one day on Waitangi Day 2004, in Hamilton, Manukau and Nelson), three tours to Australia and New Caledonia, and most recently a stadium-filling headlining show in Fiji.
Katchafire's Revival album debuted on Billboard's Top World Music Albums Chart at #5 in March 2006.
In late 2005, their two albums (Revival and 2004's Slow Burning) were packaged together and released as Double Pack, with artwork reminiscent of an old Zig-Zag cigarette papers pack. Retailing at about the same price as each album did individually, the Double Pack was also a massive hit, though deleted quickly - much to the dismay of record store employees who have to tell several people a day it is no longer available.
Members
Ara Adams-Tamatea - bass, band manager
Logan Bell - guitar, vocals
Jordan Bell - drums
Grenville Bell - lead guitar
Jamey Ferguson - keyboards, saxophone, vocals
Thompson Hohepa - rhythm guitar, vocals
Haani Totorewa - keyboards, guitar, vocals
Leon Davey - percussion, harmonica, vocals
Releases

Commercially Released Compilations
Bounce appears on the 2002 album Simply the Best Reggae Album
Giddyup appears on the 2003 compilation Top Of The Pops 2003 Vol. 3
Giddyup appears on the 2003 compilation Barbie Slumber Party Mix Vol 2
Get Away appears on the 2003 compilation Off The Hook 3
Collie Herb Man and Giddyup appear on the 2004 compilation The Reggae Collection
Get Away appears on the 2004 compilation Conscious Roots
Bounce appears on the 2004 compilation Playlist
Bounce appears on the 2004 compilation Hot Wheels
Frisk Me Down appears on the 2005 compilation Conscious Roots 2
Giddy Up appears on the 2006 compilation More Nature
I N I appears on the 2006 compilation Conscious Roots 3
Lose Your Power appears on the 2006 compilation Nuclear Free Nation 1987-2007
Bounce appears on the 2007 compilation All Blacks: The Music
This World appears on the 2007 compilation Conscious Roots 4
Love Letter and Say What You're Thinking appear on the 2008 compilation Raggamuffin
Doesn't Anybody appears on the 2008 compilation Conscious Roots 2009

Promotional Compilations
Giddy Up appears on the 2002 promo compilation Kiwi Hit Disc 54
Who You With appears on the 2002 promo compilation Kiwi Hit Disc 57
Giddyup appears on the 2003 promo compilation The Tuis New Zealand Music Awards, 2003
Get Away appears on the 2003 promo compilation Kiwi Hit Disc 60
Colour Me Life appears on the 2003 promo compilation Kiwi Hit Disc 62
Bounce appears on the 2004 promo compilation Kiwi Hit Disc 64
Seriously appears on the 2004 promo compilation Kiwi Hit Disc 67
Rude Girl appears on the 2004 promo compilation Kiwi Hit Disc 69
Close Your Eyes appears on the 2005 promo compilation Kiwi Hit Disc 72
Hey Girl appears on the 2005 promo compilation Kiwi Hit Disc 78
Collie Herb Man remix appears on the 2006 promo compilation Kiwi Hit Disc 84
Frisk Me Down appears on the 2006 promo compilation Kiwi Hit Disc 89
Say What You're Thinking appears on the 2007 promo compilation Kiwi Hit Disc 97
Love Letter appears on the 2008 promo CD Kiwi Hit Disc 102

Published Articles
External Links
Official Website (webiste currently contains a downloadable virus)