Harden Up, Ow
From HtownWiki
Known as either The Hamilton Circle Jerk or Harden Up, Ow, this event is the brain-child of Mark Tuhupi of St Lucy. It features a number of Hamilton bands of various genres, each playing one or two covers of other Hamilton bands' songs, as well as one original tune.
Hamilton Circle Jerk - 2005
Held at Diggers Back Bar.
2005 - Line Up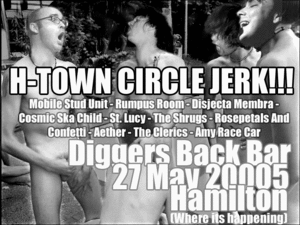 2005 - External Links
Htown.co.nz Discussion
Review - Robyn Gallagher
Photos on petrajane.com