Hamapalooza
From HtownWiki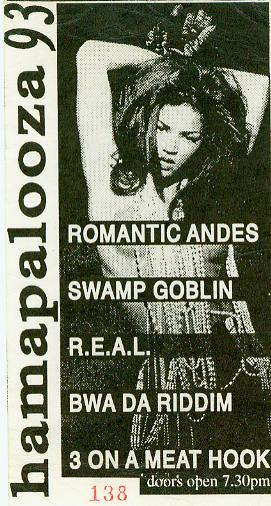 Hamapalooza was a concert organised and promoted by Clinton Swan and Damien Fenton at the Wailing Bongo in 1993 - backed with the belief that Hamilton music was strong enough in its own right to pull in sizeable crowds but had struggled to do so due to the weak production values and poor promotion commonly associated with local gigs at that time. It was also a way to launch Swan's band Bwa da Riddim to a decent sized audience. The cleverly, and heavily, marketed event, held at Gurus on Friday, 17 September, had a diverse lineup, being headlined by Swamp Goblin, and also featuring Romantic Andes, REAL, Bwa da Riddim and 3 on a Meathook.
Fenton and Swan managed to attract solid sponsorship from sympathetic local businesses such as Metropolis Cafe and Dub Media but even so this was not enough to match the scale of the event the duo were attempting to put on. In the end Fenton put up $2000 of his own money to make up the shortfall, courtesy of a drawdown on the living allowance component of his student loan. Fenton and Swan's confidence in the success of the event was not misplaced - Approximately 500 people (including the guest list) attended and Fenton was able to recoup his 'investment' in full.
New Zealand Music TV show 'Frenzy' attended to film the show with the intention of airing it several weeks later. However, a technical glitch with the sound feed meant the footage was useless for broadcast. However apart from this setback the rest of the night went off without any other technical problems. T-shirts were also produced for the gig, most of which had large expletives printed on the back. They sold out at the start of the night and orders were taken for a second print run.
From this first event, Swan went on to become Activities Manager at the WSU/University of Waikato from 1995 to 1997. Fenton went on to become Production Manager at Contact 89FM for a time before moving to Christchurch. Other people who played a part in putting on Hamapalooza included Matt Zeeman (sound), who along with Mike Clarkin (lighting) helped organise the technical production aspects, while Hamish Kuka designed the promotional material and t-shirts.
Published Articles