Difference between revisions of "Grok"
From HtownWiki
Line 25:
Line 25:
 

==External Site==

 

==External Site==

 

*[http://www.myspace.com/grokmusic Grok @ Myspace]

 

*[http://www.myspace.com/grokmusic Grok @ Myspace]

 
+
 
 
 
 
 

[[Category:bands]]

 

[[Category:bands]]
---
Revision as of 18:05, 5 May 2008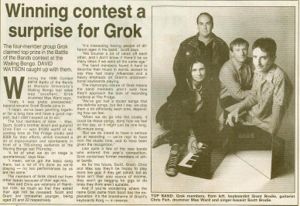 Grok was a Hamilton "super-group" of sorts, being largely a collaboration between brothers Scott Brodie (bass, vocals) from Inchworm (and later Girlinky) and Grant Brodie (keyboards) from (amongst other bands) Dribbly Cat Attraction. Other members were Chris Fish (guitar) from Love and Violence and Department of Corrections and Max Ward (drums), ex-the Sandbabies.

The band took out the top prize at the Contact 89FM Battle of the Bands competition in 1996. They took their name by reversing "Korg", the brand of Grant's keyboard.
Bubbles and Noises from the Aquarium was Grok's only CD, released in 1997. A track from the album, 8:30 18/02/97, was released on Green Eggs and Hamilton under the name Salad.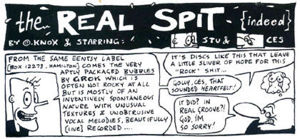 Grok reformed in 2006 with a substantially different lineup, with only Scott Brodie remaining from the original. The new Grok (sometimes called Grok 2) are based in London and include three members from Girlinky, who stopped playing in 2005; Scott Brodie (bass and vocals), Rob Talsma (drums) and Chris Ayles (guitar). Two keyboard players from the initially reformed Grok, Jayne and Dan, have since been replaced by three new keyboard players. During 2007 Grok spent time in a recording studio, which resulted in the release of a single,Song for Europe in May 2008, and an album titled Ruined Music for Everyone in June 2008. Grant Brodie has contributed to the album via the internet from New Zealand.
Releases

Published Articles
Winning Contest a Surprise for Grok, City Weekend, 30 August 1996, P9

External Site