Gadget Goose
From HtownWiki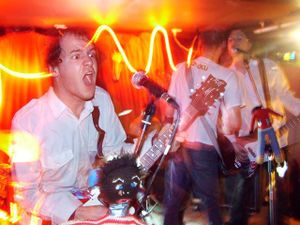 Gadget Goose formed in 2005. Following a solo performance by Dave Tiplady at Open Mic Night a friend encouraged Dave to form a band around some of his material. Otis Williams (Odee) and Mike Crook were enlisted on bass and drums respectively, with Lemon being drafted in to play guitar shortly afterwards. In early 2006 Tony Sisam picked up bass duties due to Odee moving out of Hamilton. Gadget Goose released three albums, although the third (self titled) album they was effectively a solo project of Tiplady.
Gadget Goose played only a handful of live shows, most memorably supporting internationals - Your Black Star, Vialka and Sabot.
Gadget Goose play guitar rock with influences of the ambient and indie variety.
Members
Releases
External Links