Fideleo
From HtownWiki
Bio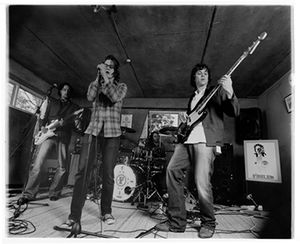 Fideleo were a four piece band from Matamata, New Zealand. The members all met at school and began playing original music in 2001. Their style was an intricate and energetic progressive rock, with clear influences from funk and psychedelic.
Fideleo played around 35 shows at various locations in the North Island during 2006. In May, they were interviewed on the Auckland Alt Music channel to promote their video for 'Share Her Tears.'
The band's gig posters and CD artwork had a characteristic style making them instantly recognizable as Fideleo's. Adam, who plays bass in the band, is the mind behind this. The designs are usually limited to a few colours and feature iconic representations of nature. The band often sets up light boxes displaying backlit images at some of their concerts. The band broke up prior to the 2008 release of the album Beneath the Kaimai.
Members
Luke - Vocals
Shaun - Guitar/Vocals
Adam - Bass
Clarky - Drums
Releases
Label
ill Records
External Links