Circle Jerk 2008
From HtownWiki
The 4th Annual Hamilton Circle Jerk was held at Digger's Back Bar on the 31st of May, 2008.
Artists and songs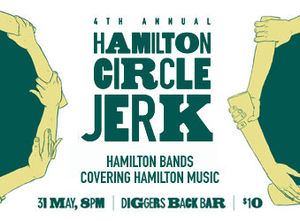 Mark Tupuhi & Nathan Bregman (Offal Baby):
The Shrugs - Space is Black
MSU - Old Cunts (to a Crowded House tune "Don't dream it's over")
MSU - We are MSU (to another Crowded House tune "4 Seasons in One day". Half way through started singing the Crowded House lyrics)
A The Gills song
David Pine - Listening to Merle Haggard Singing
All the YouTube clips of Hamilton music videos they could find all playing at the same time
The Shrugs: Feat. Roz Case on the Pink Pussy and singing
DJ Handbrake:
The Stevie Ray, Cream, Hendrix & Snoop Dogg Experience:
Rumpus Room feat. Kerry Cooper:
I think they did a Ghidrah song? Also played too many songs.