Big Muffin Serious Band
From HtownWiki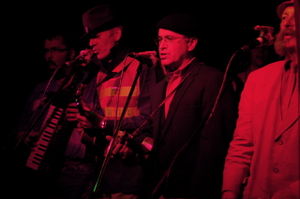 Purveyors of fine (and often silly ) ukulele music in Hamilton and New Zealand since 1983. General musical classification; country-punk-skiffle/barbershop rock. Instrumentation incorporates ukulele, tea-chest bass,snare drum, home-made gadgets, various toys and miscellaneous non-musical implements. Also known for shadow-puppetry, stilt-walking, ludicrous costumes and general clowning.
Founding members are Graeme Cairns, Jim Fulton and the late Ian Coldham-Fussell. First performance was at the Waikato Winter Show, May '83. Numerous lineup changes include the following-
Graeme Cairns: 1983- present,
Jim Fulton: 1983- present,
Ian Coldham- Fussell: 1983,
Chris Allen: 1984,
Mark Walles: 1984,
Keith MacMillan: 1985-86,
Peter(P. Bagg) Caldwell: 1986-88,
The Naughty See-Monkey(original go-go dancer): 1986-88,
Paul VanWering: 1988-89,
Trudy Kendall (go-go): 1988-'93,
Bryce Galloway : 1989-'90
Alec Forbes (go-go): 1989-'95,
Jeff Howell: 1991-'92,
Steve Matich: 1990-'95,
Matthew Shirley: 1993-'95,
Adrian (Droid) Holroyd(go-go): 1995-'99
Bevan (Baz) Galbraith: 1997-present,
Tony Wyeth: 1999,
Craig Beere (go-go): 2003-2005,
Adrienne Carthew(stilts): 2004,
Nick Clothier: 2004- present,
Adam Fulton: 2005-present,
Recordings:
Shows:
Side Project Recordings:
Some of these recordings are available from the University Library.
External Links
For a more complete bio, pictures and info on associated instrumental ukulele groups see [1]