Backbeat
From HtownWiki

Backbeat went to air in mid-2006 as a youth-education radio station on the 89.0FM frequency, previously used by The Generator. The station was located in the Relax Training Institute of New Zealand until 2010, when it moved to another building in Garden Place.
The station began DJ free before adding voluntary announcers for a short time. In 2008, volunteers were advised they were no longer needed and the station returned to a DJ free format.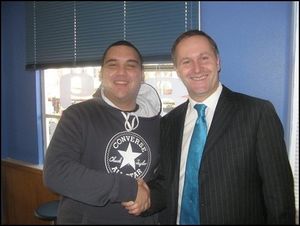 The station was relaunched with the help of Sedition Promotions in September 2009, with Max Coyle and Anderson Mcintosh co-hosting the drive show between 4-7pm. The station changed to a commercial rock format and began to actively promote itself, with a heavy emphasis on social networking sites.
Throughout 2010, the station began to change their playlist, playing more alternative rock and metal in a similar format to The Generator. Anderson McIntosh left the station to pursue other career options, while Charles Halliwell briefly replaced him on the afternoon Drive Show. Max continued promotional operations for the station, including an appearance on national television with a publicity stunt involving him jumping off Pukete Footbridge on a BMX.
In August 2010, Max Coyle stepped down as station manager and continued to host the drive show until September when he left the station completely. Greg Selman took over station management duties shortly before resigning a month later. The owner of the 89FM frequency sublease, Wayne Henderson, left the country during this time. In October 2010, the station rebranded yet again to Rush FM.
External Links