The Deadly Deaths
From HtownWiki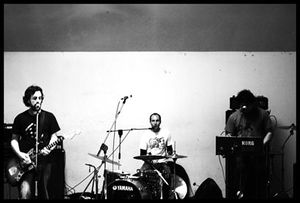 The Deadly Deaths formed in 2006, and featured members of Nimbus and the Dead Pan Rangers.
Members
[
edit
]
History
[
edit
]
After forming in 2006 they played their first gig at Upsett Records as the opening act for Jakob, City City City and Operation Rolling Thunder as part of the August A Low Hum tour. In mid-2006 they released their first single See The World. A stop motion animated music video for the single was released during November 2006. Their second single Half-time Double-team was released during January 2007.
In February of 2007 they released their debut self-titled album at Camp A Low Hum. This was followed by their third single Bury It. The band ceased playing around 2008.
Releases
[
edit
]
Published Articles
[
edit
]
External Links
[
edit
]